Dragon Ball Z - Fusions - (1995) - Netflix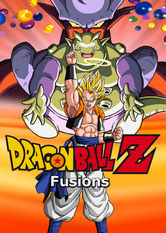 Action & Adventure
Quand un jeune ogre ouvre accidentellement la porte vers l'autre monde, la Terre est tout à coup envahie d'esprits du mal, et l'adolescent est transformé en monstre.
Director:

Shigeyasu Yamauchi

Cast:

Kenji Utsumi

,

Jouji Yanami

,

Hikaru Midorikawa

,

Yuko Minaguchi

,

Takeshi Kusao

,

Ryô Horikawa

,

Mayumi Tanaka

,

Hiromi Tsuru

,

Daisuke Gouri

,

Masako Nozawa

Netflix Rating:

4.0/5
Rotten Tomatoes Score:
0/100
Countries Available in:

Not available in your region? Sign up for ExpressVPN to unblock Netflix!

Available Since:
13/10/2014
Similar Titles:

Synopsis
When a worker at King Yemma's spiritual check-in station is accidentally covered in spiritual waste, he is transformed into a powerful monster named Janemba, who destroys the barrier between the real world and Other World, allowing the dead to walk the Earth. As the living Z Fighters fend off the dead, it is up to Goku, Pikkon, and Vegeta to stop Janemba.
Other Titles Being Viewed Right Now