Achtste-groepers huilen niet - (2012) - Netflix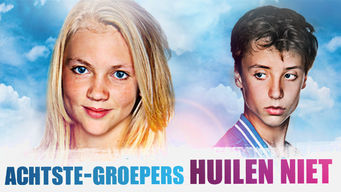 100 m -
Voor het hele gezin
100 m -
Voor het hele gezin
Director:

Dennis Bots

Cast:

Chris Comvalius

,

Reinout Bussemaker

,

Loek Peters

,

Bram Flick

,

Amin Belyandouz

,

Fiona Livingston

,

Johanna ter Steege

,

Eva van der Gucht

,

Nils Verkooijen

,

Hanna Obbeek

Netflix Rating:

4.2/5
Rotten Tomatoes Score:
0/100
Countries Available in:

Not available in your region? Sign up for ExpressVPN to unblock Netflix!

Available Since:
28-02-2016
Similar Titles:

Synopsis
Adaptation of one of Benelux most famous children's novels. Gutsy middle school student Akkie loves soccer. When Akkie is diagnosed with leukemia, she has to fight for her life. As Akkie grows weaker she also grows closer to the boy she has liked all along.
Other Titles Being Viewed Right Now